THE ULTIMATE GUIDE TO CHAMONIX IN THE SUMMER
Are you looking for a complete guide to walk you through every aspect of your summer alpine holiday? Whether you're looking for a luxury summer break or an action-packed week of adventure, we have the answers to your questions.
ACTIVITIES
Chamonix is a hive of activity during the summer months, offering numerous outdoor activities here are just a few, but check our summer activity guide here for more.
BIKING

DOWNHILL MOUNTAIN BIKING, FAMILY TRAIL RIDES, ROAD BIKING, FAT BIKING, E-BIKING

The Chamonix valley offers many exciting and challenging biking trails from casual bike rides to heart thumping cross country terrain. For adrenaline addicts, there are some technical downhill descents, and for the road cyclists challenging "cols". The Col de Forclaz was featured in the 2016 Tour de France and is easily accessible from Chamonix, with incredible views from the stage finish Emosson Dam 2,205m. The rise in E-bikes means that areas previously inaccessible to most can now be explored in comfort by all.

PARAGLIDING

Take in wondrous views of the Alps flying in the fresh air over Chamonix. The valley is perfect for keen paraglider, as well as novices wanting to experience that flying feeling. Take in the wonderful fresh air and stunning scenery of the Chamonix mountain range with a qualified pilot.

CLIMBING & VIA FERRATA

Chamonix has arguably the best selection of climbing routes in the Alps. There are easier and more challenging climbs for beginners, intermediates and experts all within reach of a small hike or cable car ride (sometimes both). Take advantage of the bolted outdoor routes at Gaillands, or the Aiguilles Rouges and Mont Blanc Massif offer many more possibilities for those prepared to take them on. Guides can be arranged to climb Mont Blanc (normally a 5 day trip).

If you're not an experienced rock climber, but you're looking for the mental and physical challenge of climbing and the spectacular views that go with it, Via Ferrata in Chamonix is for you! Chamonix is deservedly known as the heart of alpinism worldwide. With such fame and popularity comes investment and growth in a full range of accesses and activities to view and explore these Alps. In 2016, Chamonix added Via Ferrata to the long list of activities on offer. As this is a sport which is growing in popularity

RAFTING, CANYONING, HYDRO SPEED

After the winter comes the big thaw, bringing with it rising water levels and awesome rapids to ride! The Mont Blanc region is home to outstanding rafting territory. On our doorstep we have the Giffre, L'Arve and the world class Dorea Baltea. Rafting is a great team exercise or family day out and offers a vastly different perspective on the raw power of nature around us.

Water sports on offer also include canyoning, which is not for the faint hearted and involves climbing, diving, abseiling and swimming in water with strong currents. There is also 'hydro-speeding' a recently introduced take on surfing and fast becoming a popular way to ride the rapids! Using a large body board like float you hold on for dear life and hurtle down the rivers.
HIKING
OUR TOP FAMILY FRIENDLY HIKE
Time: 3h round trip,
Distance: 4km
Altitude Gain/Loss: 175m+/430-
Difficulty: Easy
There are many variations to get to Lac Blanc. This route is less used than the one departing from the arrival station of the cable car of the Flégère and is more family friendly, cutting out a lot of the uphill work! From the Chalet head to the Flégère lift station (5 minutes walk passed the golf course).
At the lift take a ticket From Flégère-Index and return Flégère, take the cable car from the Flégère and then the Index chairlift all the way to the top. The trail descends to the right of the arrival of the Index chairlift and passes by the small lake of the Fouet. You will reach Lac Blanc after about 1 hour and 20 minutes. In summer, the thawed Lac Blanc (actually two lakes joined) is a turquoise color. We suggest passing on the right of the first body of water to go for a picnic at the edge of the second lake, as it is normally a bit quieter.
When you are ready to head back take the arrowed path to the left of Lakes of Chéserys. The trail descends to the shores of the southern lake of Chéserys (2211m) using a short and easy ladder that allows you to cross a rocky area. Following the trail, you can see the other lakes before reaching an intersection where you have a 180-degree panorama of the Mont Blanc range.
Take a right to reach the Tour Du Mont Blanc, a trail that is continued towards the chalet of Chéserys (1998m) and then to the hut of the Chavanne. A short climb takes you back to the top station of the Flégère cable car (1877m). Where you can take the trip down and the short 5 minute walk back to the chalet for a evening BBQ on the terrace!
More here: Our Top Family Friendly Hiking Routes | News About Luxury in France | Amazon Creek
OUR TOP HIKING ROUTE
Tré-le-Champ (Argentiere) to Planpraz via Le Flégère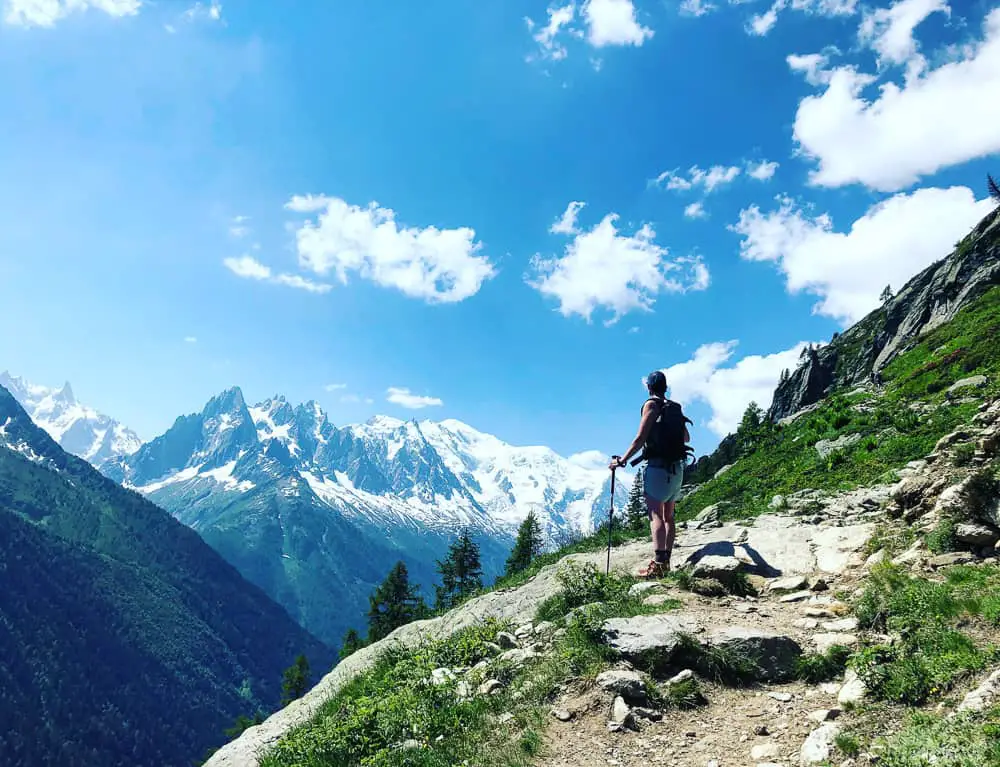 Walking along the acclaimed Grand Balcon Sud, this stage of the Tour du Mont Blanc is one of the most scenic.
Start your day by walking or catching the bus (destination Col des Montets) from Argentiere or Chamonix (depending on where you are staying) to Tré le Champ. From here the trail climbs via Aiguillette de Argentière to the Grand Balcon Sud of the Aiguilles Rouges, taking in a few fixed ladders on the way. It is possible to avoid the ladders by taking the variant via Col Des Montets. You are now in the Aiguilles Rouge Nature Reserve and sightings of Ibex, Marmot and many other furry creatures are common.
Another hour of descent brings you to the cable car station at Le Flégère, continue past the cable car and take the 'Balcon Sud' route traversing across the mountain side with stunning views of Mont Blanc as you go. The balcony route arrives at Planpraz where you can take the cable car down to the centre of Chamonix.
More here: The Best Hiking Routes Chamonix Has to Offer | News About Luxury in France | Amazon Creek
LIFT OPENING AND RATES
CHAMONIX 2022 SUMMER SEASON DATES
The ski season in Chamonix will officially kick off on 11th December 2021 for early snow at weekends, and will draw to a close 1st May 2022. (These dates are subject to weather conditions and could be susceptible to change). We've created a full table below which will provide you full opening times in the area for the 21/22 season.
| | | |
| --- | --- | --- |
| AREA | OPENEING DATE | CLOSING DATE |
| Grands Montets | 2nd July | 4th September |
| Vallorcine | 11th June | 11th September |
| Brevent & Planpraz | 11th June | 11th September |
| Flegere | 9th June | 11th September |
| Les Houches | 11th June | 11th September |
CHAMONIX 2022 SUMMER SEASON DATES
Day walking passes starting from €20
1 day multi destination pass from €68
Multi day passes offer larger savings
| | | | |
| --- | --- | --- | --- |
| | ADULT 15-64yrs | REDUCED 5-14yrs 65-79yrs | FAMILY 2 adults + 2 children |
| 3 Days | 96.00 € | 81.00 € | 298.00 € |
| 6 Days | 133.00 € | 113.00 € | 414.00 € |
Full details on opening times, dates, and lift pass rates here: Chamonix summer - Summer Rates, Timetables & Brochures - Mont-Blanc Natural Resort (montblancnaturalresort.com)
SUMMER EVENTS
Mont Blanc Marathon - 23rd to 26th June
This is a series of trail running races that attract international level and amateur trail runners from around the world. Races take place at the end of June each year and include the 42km Marathon, the 23km Cross, the 80km Ultra Marathon, the Vertical Kilometre, the 10km and the mini cross (one for the kids). If you want to compete in the event, registration takes place in the preceding autumn.
Fête de la Musique - 21st June
This is a French national celebration of all things music, taking place on the same date every year. The bars and streets of Chamonix hold various parties and the whole valley comes to life. Normal licensing laws are softened and if you've got the stamina you can party till the wee small hours.
Climbing World Cup - 8th-10th July
Watch some of the world's fastest and most agile climbers compete in technical and speed climbing. Teams from around the world descend on Chamonix's Place du Mont Blanc and battle it out, to the delight of the crowds
Cosmo Jazz Festival - 23rd-30th July
This nine day Jazz & International music festival starts at the end of July and rolls over into August. You'll find music being played in various mountain top locations around the Chamonix Valley, and then back down on the valley floor in bars, restaurants and on the streets
Ultra Trail du Mont Blanc - 23rd-30th August
The biggest trail running event of the Chamonix calendar brings trail runners from around the world to the valley to compete in one of the most prestigious and toughest running races there is.
Discover more: Main Events in Chamonix | SeeChamonix.com
EATING OUT IN CHAMONIX
Chamonix is well known for having some of the finest cuisines around. The scenic French commune offers everything from exquisite fine dining right through to homely pub grub. Whether you're a meat-lover, vegan or gluten free, there's something for you. Take a look at our full guide here: RESTAURANT GUIDE | Discover the French Alps | Amazon Creek
BREAKFAST
Craving a hearty breakfast before hitting the slopes? Look no further than Elevation 1904 who have received a certificate of excellence on trip advisor for their amazing grub and friendly service. There should be no need to book but if you want to make sure you can call them on +33 4 50 53 00 52. Pretty much all villages have local eateries for you to grab something quickly before setting off for the day.
LUNCH
If you're looking for something quick and easy in the area then there are a number of options. Poco Loco should be your number one choice for a quick bite. They don't have a website but you can book on Facebook or by calling them on +33 4 50 53 43 03. Why not also head to Moo Bar for probably the lunch buffet or best burger you'll ever taste, you'll be able to find them in Chamonix town center. Even if you're gluten free, there's somewhere for you in Chamonix. Hibou Deli is a central eatery in Chamonix which offers cheap but exceptional cuisine which is suited to vegetarians, gluten-free eaters and anyone who appreciates good quality food.
Looking for grub while you're skiing? All resorts will have bars and restaurants available for you while you're skiing but we thought we'd mention a special few you must visit! La Chavanne is a mountain bar with unrivalled atmosphere and excellent service. You'll be able to ski to their door in Telesiege de la Chavanne. Be careful though, once you're in you may not want to leave to carry on skiing. You've been warned!
DINNER
If you're looking for the best meats and steak in the area you should consider heading to La Remise, which is an Argentinean steak house considered by many to be one of the finest restaurants around. Alternatively, if you're looking for the finest local French cuisine in Chamonix, head down to L'Atmosphere. We consider this town center eatery to be the best value French restaurant in Chamonix. One tip from us is to ask for a table overlooking the river when you reserve, thank us later!
Chamonix also offers more relaxed restaurants, which still maintain the same level of excellence and quality. Casa Valerio is an authentic Italian restaurant with a global award-winning owner. The restaurant offers over 40 different pizzas so you're sure to find something you like down at Casa Valerio. The great food and service they provide is sure to keep the kids happy too. Who doesn't like pizza?
NIGHTLIFE
We guarantee that in Chamonix, you'll be able to find a bar or club which matches your preferences. Whether you're looking for a drink or two after ploughing down the slopes or staying out until the early hours, you'll be able to find it in Chamonix. Moo is one of the most popular bars in Chamonix and is currently one of the only bars in the region which offers a self-service beer tap, so the drinks will only stop when you want them too. If a more sophisticated pre-dinner drink or glass of bubbly is more your style then Les Caves has a great cocktail list. Situated on Rue Des Moulins in Chamonix center, along with a few other trendy bars.
L'Amnesia is one of the most popular and a notorious nightclub's in Chamonix with parties often lasting well into the early hours of the morning. You'll be able to find the club placed near to the Aiguille du midi cable car. The dress code for the bar is informal however you are advised not to attend in your ski wear if you're planning on staying late.
TRAVEL
FLIGHTS TO CHAMONIX
During the summer month's flights are available from multiple UK airports, including all major London Airports, Manchester, Bristol, Bournemouth, Leeds, and more! We recommend that you fly to Geneva when planning a trip to Chamonix. Geneva is a well connected international airport from most European cities and is considered to be the most popular choice for travellers heading to Chamonix. Flights from London, UK take on average 1h 20mins. British Airways, Easy Jet & Swiss International airlines all operate between London and Geneva. Skyscanner is a great tool you can use to find flights which are most suited to you and your group.
Turin, Italy and Lyon, France are also viable options however transfer times are considerably longer.
AIRPORT TRANSFERS
Transferring from the airport to your accommodation can be a stressful experience; however, you can make your life easier by booking your transfer in advance. The transfer from Geneva to Chamonix is around 1 hour, depending on weather and traffic. Peak Limousines is a transfer service which offers both private services from Geneva to Chamonix. Our partner Mountain Dropoffs also provide shared transfers with seats for as little of €40. Availability during the busier peak weeks can get fully booked, so we would recommend booking your transfer as far in advance as possible.
CAR HIRE CHAMONIX
During the summer months we highly recommend hiring a car. In terms of pricing, when booking well in advance you can expect to hire an average family car for around €400 from Hertz. Prices for car hire vary depending on the duration of hire, the driver's age, the type of vehicle, and your choice of the car model.
DRIVING TO CHAMONIX
Many tourists who visit Chamonix during the summer months do decide to take the road trip and drive from home. It's a great option if you are planning on visiting a number of destination on your summer break. From either Calais or Boulogne there's a toll motorway to Chamonix, which takes on average eight to nine hours in normal driving conditions. If you're imagining driving down winding roads all the way to Chamonix, don't panic. The journey is mostly on the French toll roads, with only the last 20km being off the motorway. The added benefit is that you'll be free to travel between the resorts in Chamonix in your car rather than relying on public transport!
CHOOSING YOUR ACCOMODATION
Here at Amazon Creek, we offer a selection of luxurious summer Chamonix chalets. Four luxury chalets sleep up to twelve people and come with concierge and full services, such as a personal driver and chef as optional add ons. Chalet Dalmore is fitted with five exquisite bedrooms, each of which comes with an en-suite bathroom. This chalet is also equipped with a large cinema room, sauna and massage area to unwind after a hard day skiing.
Chalet Amazon Creek offers equal luxury and facilities, including an indoor Jacuzzi and spa, this chalet has unrivalled views of the Aiguille de Midi. Chalet Baloo offers visitors a unique rustic farmhouse setting, which allows guests to relax and unwind with nature. All of Amazon Creek's luxury Chamonix chalets come with around the clock service during your stay. The smallest luxury chalet, Baby Bear is perfect for couples and small families, which comes with the same quality service as all of our other chalets. Within baby bear, you can sleep up to 6 guests in 3 bedrooms, with the added extras of a sauna, exterior hot tub and cinema room.
There are also alternative accommodation options available in Chamonix. TripAdvisor offers users up-to-date advice and information on hotels in the local area.