For the Love of Food
A new way to dine!
We should start by saying how proud we are of our beautiful mountain town Chamonix, and all the resilient people and companies that are doing everything they can to adapt and welcome people looking for a small escape from reality this winter. In this blog we are going to focus on food, one of our favourite subjects.
With cafes, restaurants and bars in France unable to offer dining service so many have adapted, offering take away versions of thier most popular dishes. So if you thought a trip to the mountains this winter would be mean missing out on your favourite Savoyard dishes think again!
You only need to walk down the Rue du Dr Paccard into Place du Mont Blanc and beyond to see the number of café's, bars, and restaurants that have brought there offering to the street. Chamonix has transformed into a street food take away heaven. The varying smells of local cuisines and the hustle and bustle of people tucking into their favourite Savoyard dishes has brought the town to life at the end of what has been a tough year for many in the hospitality sector.
From Raclette to Crepes and everything in between, and not forgetting the fresh and warm hot chocolate or Vin-Chaud to wash it all down with, here are some of our favourites:
| | |
| --- | --- |
| Hibou - Tastes of the worls. Home-made meals to go. Hibou pride themselves in delivering fresh healthy options, inspired by exciting world flavours. With lactose free, gluten free and vegan dishes available. | Josephine - Fresh sea food platers and Crepes to order. |
| Le Serac - Raclette, Tartiflette, Soup of the day, Fondue. | Chalet 4810 (Aux Petit Gourmand) - Raclette, Soup of the day. |
Collection and Delivery
Along with all the savoyard classics all the usual suspects are going strong, with Poco Loco serving delicious burgers, Le Bar Tavel serving pizza's and Coots Cats serving artisanal hotdogs.
On top of the lunch time rush to grab your favourite meal most of the restaurants have also turned their hands to take-away meals, meaning you can still enjoy all the incredible cuisine Chamonix has to offer from the safety and comfort of your own private chalet!
MUMMA - Arguably one of the most exciting new restaurant additions to Chamonix in 2020. This borderless, crazy-tasty cuisine, in a non-pretentious, néo-bistrot atmosphere. Mumma is designed with sharing in mind; the space, the menu, the saké. Keep an eye out for the weekend pop up menu's from Mumma as they will sell out fast. Pre order online and collect from the restaurant for a mouth-watering menu that will keep you coming back for me.
The Dainty Pizza – Our favourite and the most unique pizza joint in Chamonix. This Sourdough pizza is unrivalled. From a classic buffalo margarita to the more original 'Lemon Squeezy' with homemade Ricotta, courgette, pine nuts, chives, lemon olive oil, there are vegan options, with all their pizza offering exquisite taste combination and only the best, freshest local produce. Available for collection and delivery.
Sushi Shop – This is 'exactly what it says on the tin' order online and collect. With Amazing sharing boxes for groups to share, you will have all your need for sushi night in with family and friends.
Su's Cuisine – Set up from her home Su will delivery Thai and Indian inspired dishes directly to you. Including banquet offers for 6-8 people.
If you are looking for that delectable burger to tuck into on a Friday or Saturday night check out: Cham At Home for the best of the best, including Poco Loco and dare we say it the ever-faithful McDonalds.
Your own private dining experience
The ultimate in luxury dining experiences must be your own private chef. There are some fantastic chefs providing both in chalet catering and chef delivered meals in Chamonix, here are a couple of partners we are happy and proud to support:
The Alpine Catering Company offers an exclusive and extensive range of in chalet dining experiences. If you are looking for a full week of catering or a one-off meal, look at everything they have to offer here.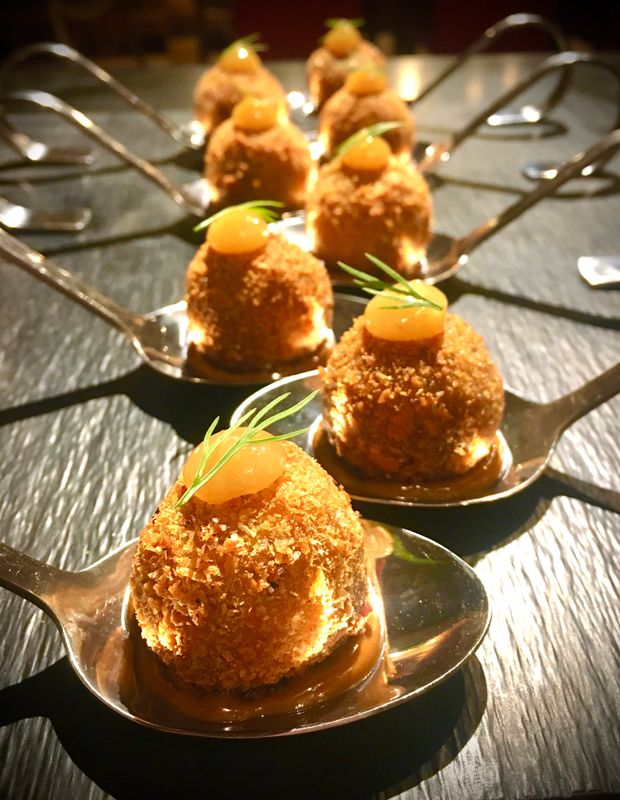 Their chef signature tasting menu will be a dining experience you will be sure to remember. Seven courses, served by a friendly highly trained host and chef, a truly exceptional evening of dining, with beautiful cuisine, exciting matching wines followed by delicious local cheeses, port, and petit fours.
Mountain Gourmets offer a solution if you want to keep your privacy but are still looking for great food. They will deliver freshly prepared, homecooked meals. Laying the table and leaving simple reheating instructions you can experience fine dining without the fuss of a chef and hostess. Take a look at their services here.
So there you have it everything you need to know about food delivery and take-away in Chamonix this season! With endless options we know you won't be disapointed.